Day 1
Come and enjoy the beautiful snowshoeing trails in a wooded environment where tranquility and nature offer you a break. Learn more.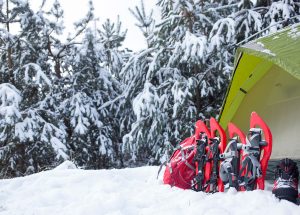 Complete your day with us by taking advantage of our ready-to-camp accommodations and camping site. Nothing better than ending a day around a campfire in good company! Lean more.
Day 2
Come pedal and appreciate the feeling of riding in the fatbike trails which are marked and mapped out with specialized equipment for an ultimate experience. Beginner to expert, each of the 10 km tracks promises unforgettable memories! Who knows? You may have the chance to cross a deer during your visit! Learn more.
The Yukigassen is a snowball battle that combines hockey, dodgeball and the flag game. The objective is to eliminate opponents and steal the flag of the opposing team. Invite your family or friends to join you in order to wrap up your stay with us in a festive atmosphere! For a fun part of Yukigassen, we recommend groups of 14 people. Learn more.
Useful information
A free skating rink is available on site. Just bring your skates!
Our exceptional environment allows us to offer ice climbing! Call us to know more!
Dogs are also permitted within the Park, but must be kept on a leash at all times.
To enhance your stay, snowshoes and fatbikes can be rented on site.
Events
La Créature an outstanding «fatbike» happening! Come encourage the participants of the races and introduce yourself to the fatbike! Learn more.
Celebrate winter while enjoying numerous family activitites. Learn more.
A special day out at the Parc Découverte Nature!
15 minutes from the Parc de la Gorge de Coaticook!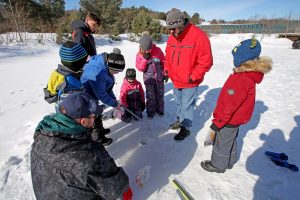 This is an opportunity to learn about ice fishing or to put your knowledge to good use. You will cut the ice layer and bait your fishing rod. Guides are also available on site to advise you during your visit! Learn more.
Useful information
We provide ice cubes in order to keep your catch (brook or rainbow trout) fresh during your trip back home.
The activity is upon reservation for groups of 15 people or more.
Event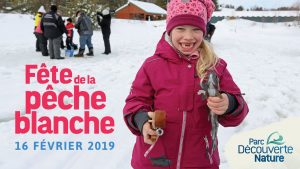 This Ice Fishing Festival is the perfect event to learn or test your skills while enjoying family activities! Learn more.