Trails sought by real fans and designed for them!
"This is, according to us, one of the most beautiful single tracks in Quebec. Must go! "– Jérôme Pelland, Quebec representative of the International Mountain Biking Association (IMBA), Espace Magazine.
The Park offers 23 km of marked trails ranging from beginner to expert level. Mountain bike lovers appreciate the diversity of these trails which give them the opportunity to meet new challenges while having magnificent views.
On site, enjoy easy trail accessibility, free nearby showers, mountain bike rentals (additional fees and valid photo ID required). Helmets are mandatory at all times and dogs are permitted on trails but must be kept on a leash at all times.
Parc de la Gorge is pleased to offer its clientele a new family mountain bike trail. This beginner level trail is named "Équestre".  Cyclists will have the opportunity to ride along a river passage observing the presence of nearby deer through their crossing of the adjacent 2 hearts meadow. The trail is also very popular with intermediaries and experts, since it allows this clientele to increase their mileage distance up to 3km of the main trail, therefore exceeding up to a total of 23 km distance within the Park.
Mountain bike are accessible free of charge when reserving accommodations within the park.
Rates
1st child
(4 to 15 years old)
Taxes included. Transactional fees are not included.
Trail map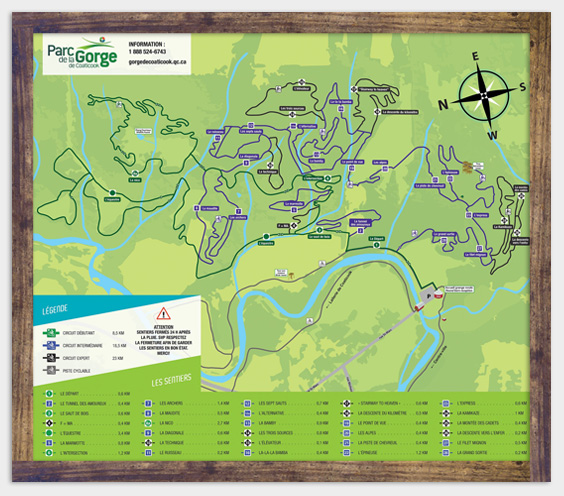 Available packages
Combine your activities to maximize your experience and save more!
Offer valid for the simultaneous purchase of activities at Parc de la Gorge de Coaticook and Parc Découverte Nature including Foresta Lumina, but excluding accommodations.


Access to mountain bike at Parc de la Gorge de Coaticook and the multimedia nighttime experience Foresta Lumina


Access to mountain bike and hiking trails at Parc de la Gorge de Coaticook


Access to mountain bike at Parc de la Gorge de Coaticook and Parc Découverte Nature