IMAGO tents, the perfect lodging concept in all its simplicity!
These facilities combine the pleasures of the outdoors and the comfort of the hotel. They offer visitors without camping equipment the perfect solution as a "ready-to-camp" accommodation. Tents V1-V2-V3 may accommodate up to 4 people and 2 people for tents V4-V5.
It is possible to enjoy many on-site outdoor activities including Foresta Lumina ($), hiking trails and mountain bike trails (free when renting accommodations), bike paths accessibility, water games, swimming pool (consult schedule). Pets are not permitted in the Imago tents nor on the site of Foresta Lumina.
Renting accommodations in Parc de la Gorge de Coaticook will allow you to discover a majestic environment and enjoy many accessible free activities offered to campers without having to use your car.
As of March 14 2023, it will be possible to book campsites online or by telephone for the upcoming 2024 camping season.
Tents V1, V2 and V3 : 1 double bed and 1 double futon bed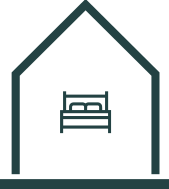 Tents V4 and V5 : 1 double bed
These types of rentals include:
V1-V2-V3 : 1 double bed and 1 double futon bed, V4-V5 : 1 double bed,
1 small outdoor BBQ (propane included),
Toaster oven, kettle,
Dishes for 4 people (plates, utensils, glasses), pots, pan, spatula, opener,
1 water facilities outside only, 1 kitchen table and 4 chairs, 1 lamp, 1 picnic table, campfire area and 1 parking space.
You must bring:
Your bed linen (sheets, pillows, towels, large blanket and warm clothing depending on the temperature),
Soap and dishcloths,
Food and cooler.
A chemical toilet nearby. This site is accessible by car and located within less than a minute from the campground's reception desk. In Imago V4 and V5 tents, space is limited and we do not recommend bringing a baby playard. Traveling light is always beneficial!
Rates
Summer season
Taxes included. Transactional fees are not included.
On weekends, Imago tents must be rented for a minimum 2 nights stay. Above prices are for 4 people (2 adults and 2 children) for tents V1-V2-V3 and 2 people for tents V4-V5. Additional charges per additional person will apply.
Buy firewood and ice bags when you making your reservation. Firewood and ice bags may be purchased online and are available in the small shed located next to the campground entrance.
Rental rates include access :


  Hiking trails, 
  fatbike and

  skill park, 

  water games and swimming pool, 

  Margaret's farmhouse and 

free parking.
Campers newsletters
Parc de la Gorge de Coaticook
Parc de la Gorge de Coaticook and Parc Découverte Nature are creating the "Mobilization for little bellies" campaign to give back to its community by offering meals and snacks in regional Coaticook schools. PRESS RELEASE [...]
Parc de la Gorge de Coaticook
We are pleased to announce that we have received 2 Traveller's Choice 2023 Tripadvisor. Foresta Lumina and Parc de la Gorge de Coaticook are the winners of this prestigious award. Every year, TripAdvisor scours reviews, [...]