PRESS RELEASE
FOR IMMEDIATE RELEASE
Survival is at the heart of a new sporting, immersive, gourmet and technological experience at the Parc Découverte Nature!
Coaticook, August 29th 2019– The Parc Découverte Nature is thrilled to announce an innovative project in the tourism sector.  Indeed, starting in 2020, survival will be at the heart of the experience at Parc Découverte Nature's new interactive and technological course.  This major project will necessitate investments of over 2 700 000 $.
The Parc Découverte Nature's project, named « Acoatica » aims to transform the entire site (buildings and exterior spaces) into huge billboards that are part of an immersive and interactive survival game in which the visitor becomes the hero.  Spread out over the entire site due to accessible and omnipresent technologies, Acoatica uses a playful, informative and interactive approach that values nature and brings out the uniqueness of the site while offering an experience to enjoy with your FAMILY or with friends that you won't find anywhere else.
Caroline Sage, Parc Découverte Nature's director, specifies that «the game's objective is to manage to create the biggest fish bank of one of four species of the fish farm.  To achieve that, visitors will have to take up different challenges so as to minimize negative effects and, most importantly, find solutions to problems like deforestation, the introduction of invasive species, overfishing, contaminants, habitat destruction and reestablishing the environmental equilibrium of the chosen species».
A dynamic region, dynamic partners
It goes without saying that a project of this scale demands the collaboration of many partners. Therefore, the Parc is extremely happy to be able to count on the financial support of the Canada Economic Development agency for Quebec Regions. «The new Federal Tourism Growth Strategy for rural communities is a success and ensures that activities will keep growing here in Baldwin.  Parc Découverte Nature's team has gone all out with the development of a new immersive and gourmet experience that uses high tech!
I am proud to support this innovative project that will knock our socks off in 2020! » – The Hon. Marie-Claude Bibeau, M.P. for Compton-Stanstead and Minister of Agriculture and Agri-Foods.
Furthermore, the Parc's Board of Directors wishes to thank their regional partners whose financial support and collaboration allowed for the fruition of this project which will benefit the local economy.
Desjardins
Ministère des Affaires Municipales et de l'Occupation du Territoire
Tourisme Cantons-de-l'Est
Ville de Coaticook
MRC de Coaticook
Neil et Louise Tillotson Fund
Thanks to you, Acoatica will surely see the light of day next summer!  It's also important to note that we are still awaiting a confirmation on the participation of major partners…therefore, we aren't quite done with our surprises for this multifaceted project, unique in Québec!
About
The Parc Découverte Nature (decouvertenature.qc.ca) is a not-for-profit organization which welcomes over 9 000 visitors annually.  Its activities are numerous: fishing in ponds and rivers, barbecues on site to cook fish, expositions on wetlands, bird watching.  Once winter comes, ice fishing is a must!
– 30 –
Source and information
Carolane Tremblay, project manager, Parc Découverte Nature
819 849-2331 poste 228 / forestalumina@gorgedecoaticook.qc.ca
400, rue St-Marc, Coaticook, Québec  J1A 2M3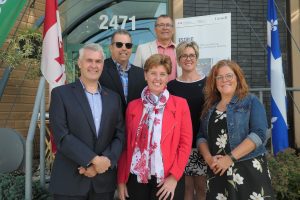 First row, from left to right : Simon Madore, Mayor of Coaticook and Hon. Marie-Claude Bibeau, Minister of Agriculture and Agri-Food and Caroline Sage, head director of the Parc Découverte Nature of Baldwin and the Parc de la Gorge of Coaticook.
Second row, from left to right : François Lajeunesse, Chairman of the Board of Directors of the Société de développement de la Gorge de Coaticook and Nadine Groulx, President of la caisse Desjardins des Verts Sommets de l'Estrie.
Third row : Bernard Vanasse, elected head of tourism at the MRC de Coaticook.